Best SkinCeuticals Triple Lipid Restore Dupes
Looking to save money on your skincare routine? Check out these dupes for SkinCeuticals Triple Lipid Restore. These products are just as effective as the pricey original, but much more affordable. So if you're looking to get great results without breaking the bank, be sure to check out these alternatives!
This page contains affiliate links, meaning I get a small commission if you decide to make a purchase through my links, at no cost to you. See the disclaimer page for more information.
SkinCeuticals Triple Lipid Restore 2:4:2 is well known for its ability to refresh and revitalize our skin with its unique blend of lipids in a 2:4:2 ratio. 2% ceramides, 4% cholesterols, and 2% fatty acids. This ratio has been studied extensively as the best to apply to our skin, as that is approximately the ratio of lipids that our skin loses from age, while also protecting and nourishing it.
The downside, of course, is the high price that the Triple Lipid Restore commands. We found the best dupes for SkinCeuticals Triple Lipid Restore that will leave both your skin and wallet feeling on top of the world!
How We Chose the Perfect Triple Lipid Restore Dupes
The most important aspect of finding the best dupes for this amazing anti-aging skincare cream for us was to first find products that offered the same main benefits but at a lower price point. First and foremost was to find products that replaced the necessary lipids to your skin and ideally in the same, or at least similar, ratio.
The other main benefit that we wanted to reproduce with these dupes was the ability to protect the skin while it infuses it with the necessary lipids. Your skin will be going through a healing process during the first week of using this product and it's vital that your skin is protected during that time.
Lastly, we wanted to make sure we could match the texture and fast-absorbing properties that customers have grown to love about Triple Lipid Restore.
Skinfix Barrier+ Triple Lipid Face Cream – Our Top Pick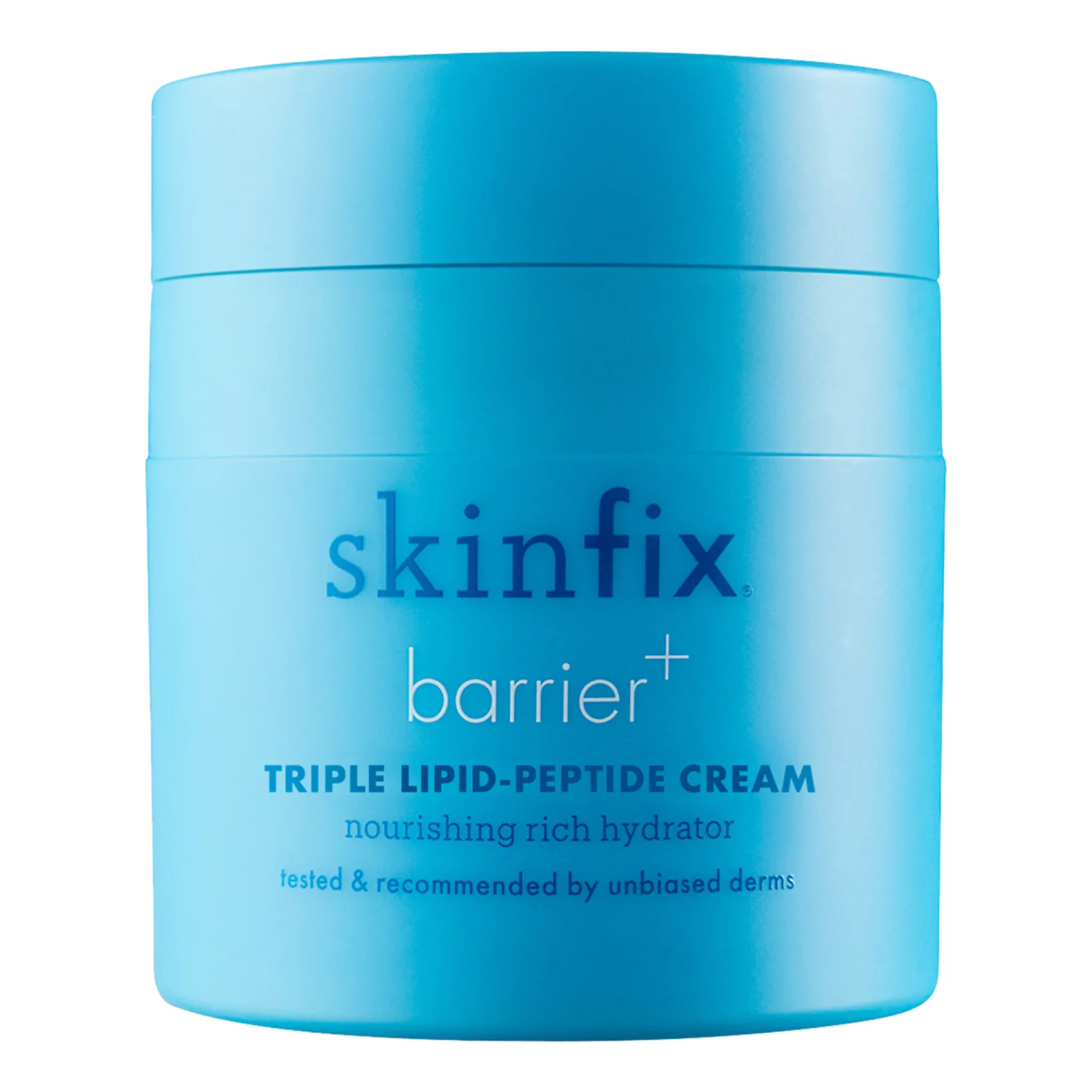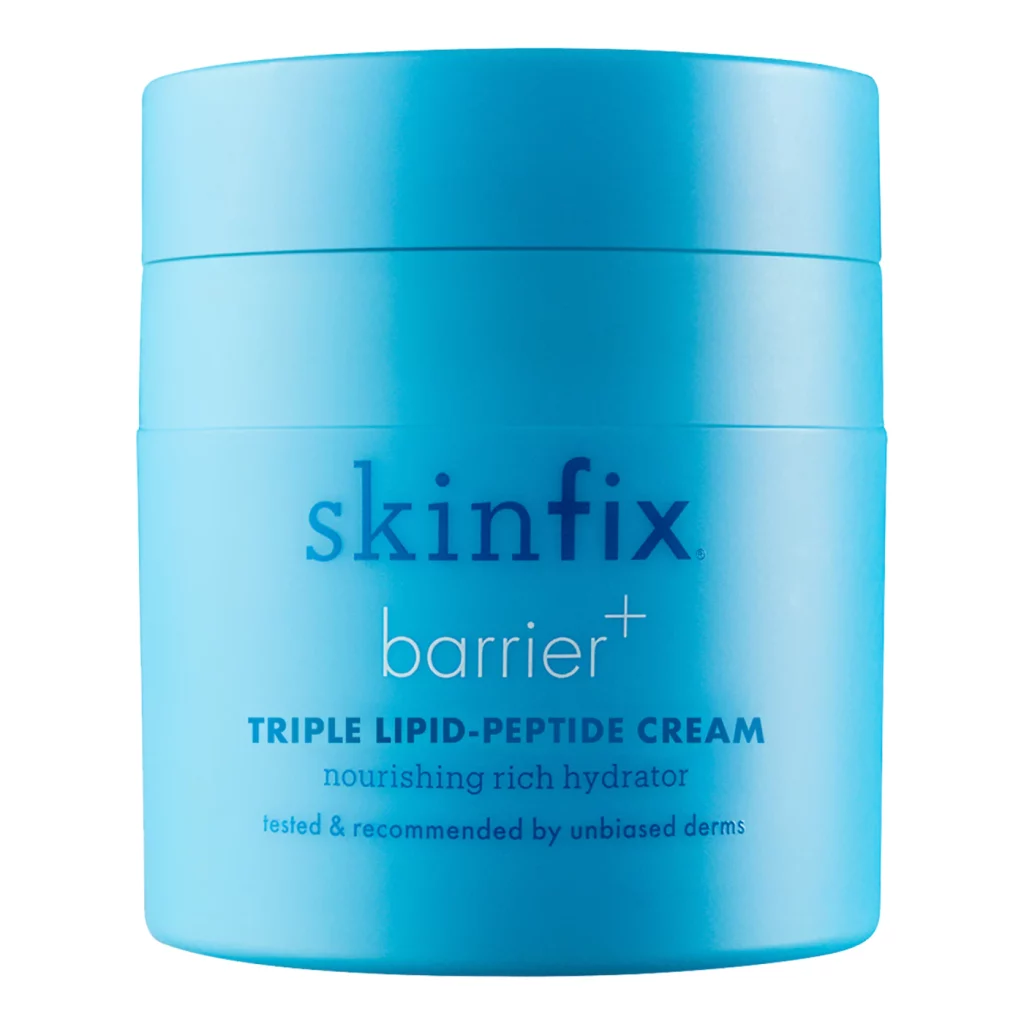 This Triple Lipid Restore dupe goes above and beyond what we would expect from a product that is a cheaper replacement for such a high-quality and well-loved product. Skinfix Barrier+ includes the same lipids as SkinCeuticals' cream, but also adds some amazing ingredients to hydrate and protect your skin like shea butter and rosemary extract. Taking their dedication to protecting your skin to the next level, they even include a mixture of peptides to protect and heal your skin from sun damage.
Features
A similar lipid profile to SkinCeuticals Triple Lipid Restore
Shea butter to hydrate and smooth your skin
Peptides to protect and repair your skin from sun damage
What we like about Skinfix Barrier+ Triple Lipid Face Cream
You get so much in one cream from Skinfix Barrier+ all of the benefits of lipid replacement, skin hydration and protection are just too good to pass up. Another thing that makes this such an amazing dupe is the texture. The texture is very similar to Skinceuticals Triple Lipid Restore. It's a very light texture that doesn't leave behind an oily texture and absorbs into your skin very quickly.
What we don't like about Skinfix Barrier+ Triple Lipid Face Cream
I'll get this out of the way early, the price. This is the most expensive and hard to find (if you're outside the USA) product on this list. It might seem strange to have price being the biggest downside of our top dupe, but if you compare the price to Triple Lipid Restore, you'll see the price is still less than half of what you would be paying.
Pros and Cons
| | |
| --- | --- |
| Pros | Cons |
| Additional hydration with shea butter | The price (though still more than half off) |
| Added peptides for skin protection | Availability outside of the USA |
| Very similar texture | |
CeraVe Skin Renewing Night Cream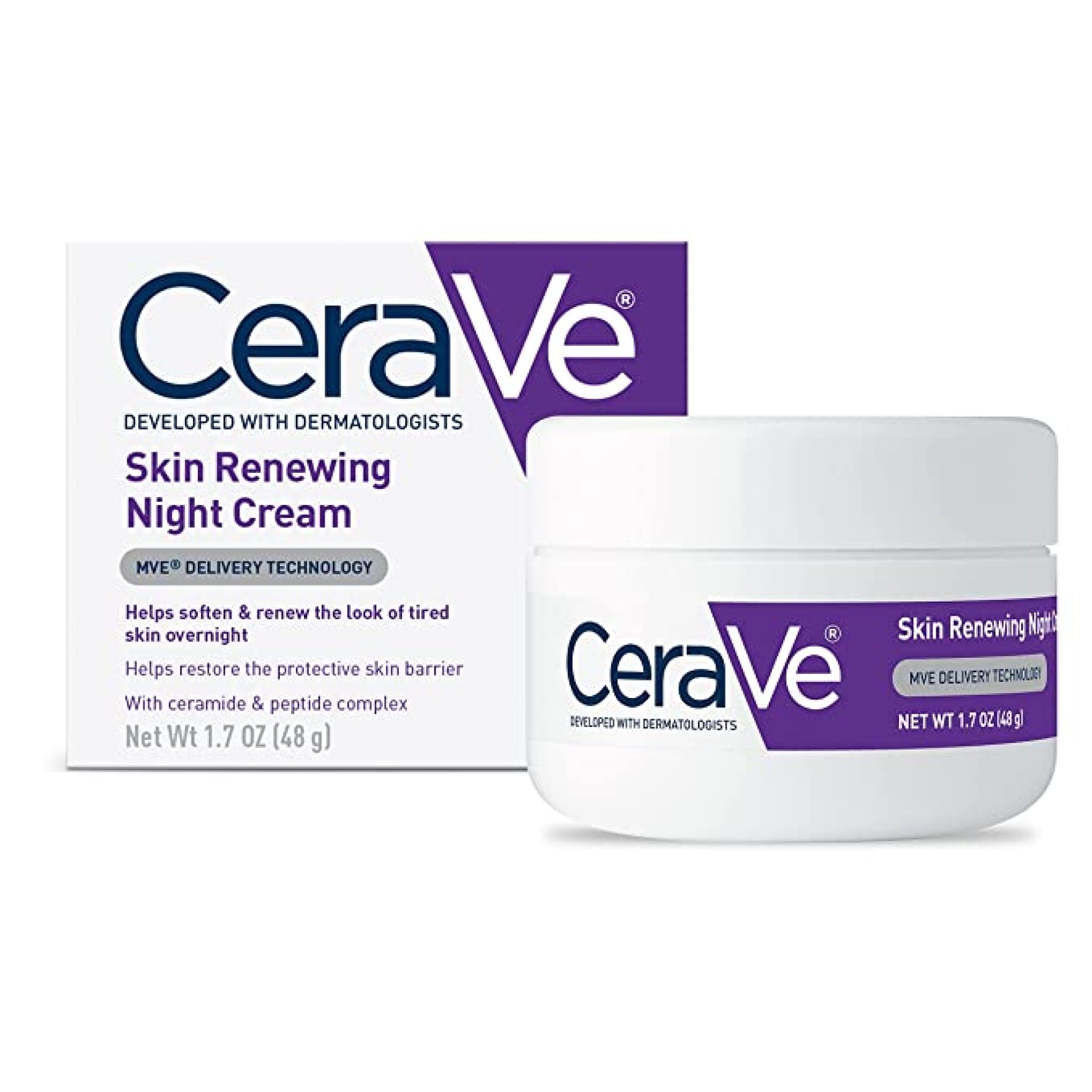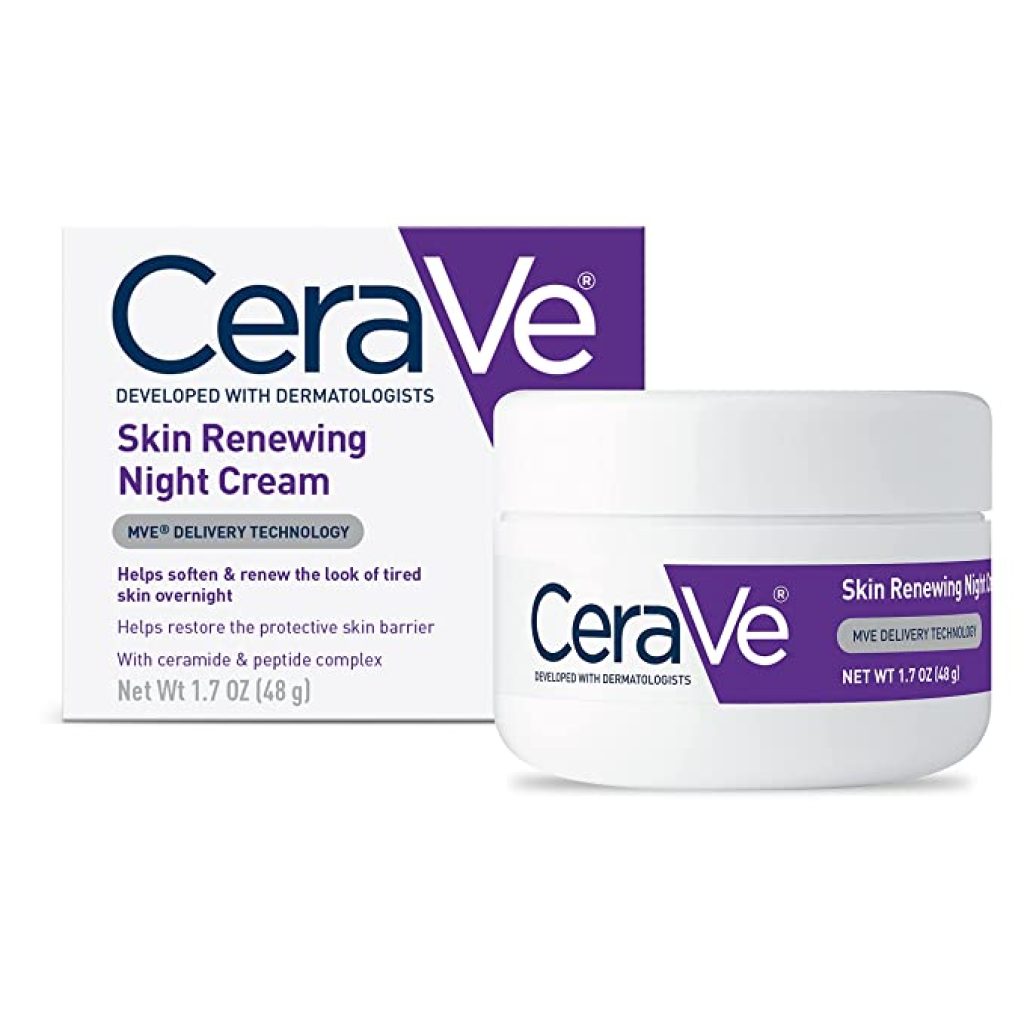 This is the perfect dupe if you're more budget conscious. It costs less than $10 per ounce of product and boasts many of the same features. There will be some tradeoffs, however. You won't get nearly as many lipids being replaced in your skin. CeraVe's product only includes the ceramides, but no cholesterol or fatty acids like Triple Lipid Restore. On the other hand, you get a cream that will hydrate your skin with hyaluronic acid and protect and heal it from sun damage with peptides.
Features
Protecting and healing peptides
Hydration from hyaluronic acid
Smooth texture
What we like about CeraVe Skin Renewing Night Cream
By far, the best thing about CeraVe's Renewing Night Cream is the price. It's hard to beat the price with all the benefits it offers. It also has an amazing texture that absorbs really quickly without leaving behind any oily residue. The inclusion of hyaluronic acid to help with hydrating skin is also a very welcome addition.
What we don't like about CeraVe Skin Renewing Night Cream
Not having cholesterol or fatty acids included in this cream is kind of a letdown and is the main thing that holds it back from being our top Triple Lipid Restore dupe. Luckily it still includes the all-important ceramides that let it pack a lot of anti-aging power.
Pros and Cons
| | |
| --- | --- |
| Pros | Cons |
| Includes hyaluronic acid for hydration | No cholesterol or fatty acids |
| Very smooth texture and is easy to apply | |
| Includes peptides for skin protection | |
| Price, less than $10 per ounce | |
Replenix Age Restore Nighttime Therapy Cream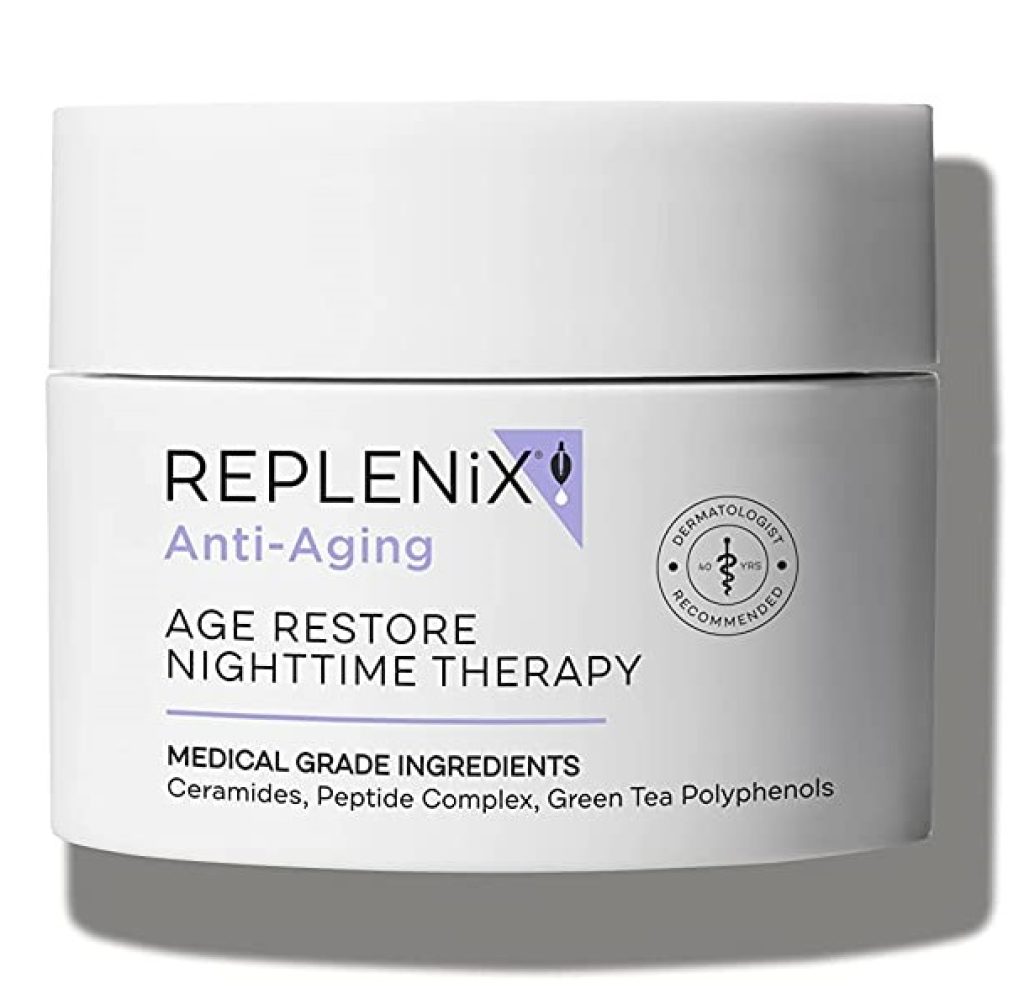 For our last recommendation, we have another amazing dupe, Replenix has made an amazing anti-aging cream that has a really similar ingredient profile to Triple Lipid Restore. It has the ceramides that all of the other products also contain, but it also has the fatty acids and cholesterol that make this a near-perfect dupe if that's the main factor you're looking for. As a bonus, it also includes peptides to protect and heal your skin and squalane to hydrate and restore your skin.
As far as downsides, the texture is off from SkinCeuticals Triple Lipid Restore. It's noticeably thicker and takes longer to absorb. However, we didn't notice any oily residue left behind. The price can also be a major issue. It's the most expensive Triple Lipid Restore dupe option we have at a bit more than half the price of SkinCeuticals' cream.
Features
Includes squalane for hydration
Near identical lipids profile
Protecting and healing peptide complex
What we like about Replenix Age Restore Nighttime Therapy Cream
I think it's clear that the main upside to this dupe is the near-perfect lipid profile. If you're looking to add lipid replacement to your skincare routine and don't want to break the bank, you need to pick this cream up right now. We also love the inclusion of squalane for that essential bit of hydration and the peptide complex that Triple Lipid Restore is sorely missing.
What we don't like about Replenix Age Restore Nighttime Therapy Cream
The price for this cream can be hard to swallow, especially as a dupe. But like we said before, it's still only a bit less than half the price of Triple Lipid Restore. That's still some pretty significant savings. While we don't hate the texture, it is thicker and not a good match as a dupe. It does not leave behind any residue though, which for us kept the texture from being a deal breaker.
Pros and Cons
| | |
| --- | --- |
| Pros | Cons |
| Squalane included for hydration | Price |
| Almost the same lipid profile | Thicker texture |
| Peptide complex to protect skin | Takes longer to absorb |
Final Verdict – The Best SkinCeuticals Triple Lipid Restore Dupe
Skinfix Barrier+ Triple Lipid Face Cream
Skinfix Barrier+ is the best dupe among the three great options we found. You really couldn't go wrong no matter which you picked. The reason Skinfix edged out a win is its unique blend of ceramides, hyaluronic acid, peptides, perfect texture, and an unbeatable price on top of all that. In our opinion, you get a better anti-aging cream for half the price you would normally pay. You can find this amazing dupe on Amazon!
FAQ
Why is lipid replacement important?
Lipid replacement is important for skincare because it helps to restore the protective barrier of the skin, preventing moisture loss and providing a more youthful, healthy appearance.
What are the benefits of using anti-aging cream?
Anti-aging creams can help reduce the appearance of wrinkles, fine lines, and other signs of aging by improving skin texture and tone, while also providing long-term protection from environmental damage. Additionally, they may offer additional benefits such as hydration, brightening, and antioxidant protection.
How often should I use an anti-aging cream?
Most anti-aging creams should be applied twice daily, once in the morning and once at night after cleansing. Don't forget to apply your skincare in the proper order for the best results! Additionally, it is important to remember to apply sunscreen before going outdoors as part of your daily skincare routine to help protect your skin from sun damage.